Greetings from the President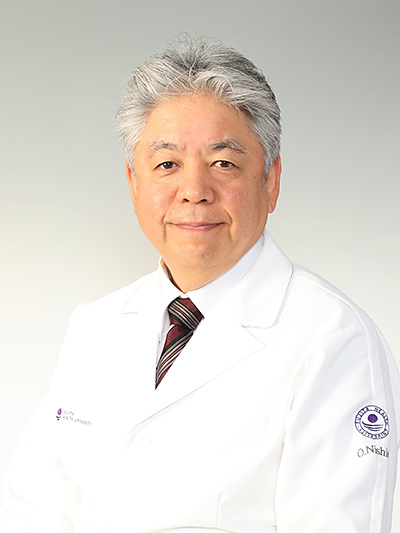 Osamu Nishida
Chair of the Executive Board
The Japanese Society of Intensive Care Medicine
On March 5, 2020, I, Osamu Nishida of the Fujita Health University Hospital Intensive Care Unit, was appointed as the fifth President of the Japanese Society of Intensive Care Medicine. I am greatly honored and humbled to have been appointed to this position in a Society with such history and tradition. I began my new role during a time of confusion, both globally and within the JSICM, as the spread of COVID-19 has led to the cancellation of the 47th Annual Congress, where I had been appointed President. The current situation reminds us of the importance of crisis management. In addition, I believe that the hard work of our Society members in the management of COVID-19 presents a significant opportunity to inform the general public about the role this Society can play within our national medical system.
In my new role as President, I would like to take this opportunity to address several points that I believe are of considerable importance for the JSICM.
As the new Board Certification System goes into full effect, Medical Societies are challenged to reexamine their status quo.
It is important that we clearly identify how our Society can contribute to the nation and its people in order to remain within the framework of board certification.
Specifically, we must clarify the
significance of intensive care
conducted by multidisciplinary teams of intensive care specialists and professionally-trained medical staff. Furthermore, unless we clearly define the benefits of our Society to its members, we cannot expect our Society to grow. Since the JSICM comprises members from multiple disciplines, we must listen to their voices and take a multifaceted approach going forward.
We must recognize that the JSICM is currently
at a significant crossroads
and that unless we
clarify our vision
, we may err in deciding what and how to reform.
"An Open Society with a Clearly Defined Significance to the Public and its Members!"
With this theme, I hope to serve as President with strong conviction. There is much work to be done on a wide range of topics. Here are some issues that I consider particularly important.
●Building an Open and Transparent Society
Bringing together opinions and having open discussions
are important for
crucial matters
that affect the future direction of the JSICM. Through email newsletters and online surveys, we will create a system that enables us to move forward while
seeking ideas and opinions broadly
from our members.
●Review of the Board Certification System, Educational System, and Facility Approval Requirements for Specialist Training
These are urgent matters that relate to
the significance of the JSICM
. We must
demonstrate to the public
how we help to
improve the quality of care
for severe patients.
The significant role of intensive care specialists as the patient-centered command in relation to the other basic clinical departments
needs to be
considered by the whole Society
. With regard to board certification and training, we must teach not only the necessary knowledge and skills for the systemic care of individual patients, but also how to manage the ICU as a whole. A system to examine this competency must also be established. Another urgent issue is the
revision of the requirements for the JSICM teaching facility approval
. I believe that we must
examine whether each facility has created a system that allows intensive care specialists to apply such expertise
in ICU management for high-quality intensive care and education in it.
●Reconsideration of our Committees
Committees are at the core of our operation. We will strive to
reexamine committee member and committee chair selection processes and make committees' activities more transparent
. For committees that determine the future direction of the JSICM, the selection of their members and the course of their discussions are critical. We must create a
collaborative system
that enables close communication between these committees and the Board of Directors.
●Reexamination of Multidisciplinary Collaboration and Organizational Reform
The JSICM must serve as the standard bearer of team-based medicine. We must continue to build specialty-specific
educational systems and society certification systems
. At the same time, we must also
reexamine the organization of the Board of Directors and the Board of Councilors
while taking into consideration their multiple professions, fields of expertise, and regionalities.
●Improvement of Membership Services and Website Content
It is critical that we create
membership benefits
that are worth the annual membership fee. We must
listen to our members
, who come from a number of specialties, and we must
establish a committee
to deliver
services tailored to the needs of our members
. To this end, we need to take a multifaceted approach in collaboration with our various committees and the Board of Directors. Furthermore, we will strive to improve website content for our members and the general public as a way to demonstrate the significance of the JSICM.
●Creating a Platform to Promote International Academic Research
It has been decided that the Journal of Intensive Care, an English publication, will be assigned an Impact Factor. For us to develop further as an internationally recognized academic entity, we must continue to play a central role in delivering high-quality evidence and guidelines to the world. To this end, we will create a special organization to plan, promote, and support JSICM-led multicenter joint research and international joint research. This organization will be a platform to promote academic research, including large-scale projects.
●Efforts to Improve the Quality of Long-term Prognosis in the Future
It has become clear that many patients who survive serious medical conditions are unable to reintegrate into society for a long period of time, often affecting the lives of their families as well. While society ages, no matter how many lives are saved through intensive care, the situation is far from ideal when most patients end up requiring long-term care. As a result,
the significance of intensive care itself is called into question
. Beyond saving lives, intensive care specialists should
aim to reintegrate their patients back into society
. As such, the JSICM must play a central role in creating a collaborative system with local partners of patient care and society at large. In order to
improve the quality of long-term outcomes
, we established the Committee for Early Rehabilitation in Intensive Care, followed by the currently active Committee for PICS measures/Quality of Life Improvement. Our aims are to establish effective preventive measures and treatments, and to take various steps towards
getting the Japanese health insurance system revised to cover the health care fees
for these measures and treatments.
●Reform of the Annual Congress
The Committee for Annual Meeting Reform is taking the lead in implementing various reforms. Their efforts include operational and financial reforms, establishing uniform criteria for structured abstracts and peer review, the revision of peer review result notifications, and the revision of acceptance rates. In the process, your opinion and feedback are being taken into consideration. Furthermore, through our experience with COVID-19, we also plan to undertake new issues such as crisis management in relation to conference organization.
●Collaboration with Societies in Related Fields
There are many Societies that relate to our field of work. We believe that collaborating with these Societies on various guidelines, committee activities, and joint events at conferences would greatly benefit many areas of our work. We plan to take proactive steps in creating networks with these Societies in related fields.
●International Exchange and Globalization
We will promote further international exchange, including with Asia. By raising global recognition of the JSICM, we aim to build a productive system that delivers a great deal of evidence and guidelines from Japan to the rest of the world.
●Strengthening the Function of the Administrative Office
The JSICM has grown in scope, as can be seen by an increased and diversified membership, more committees and seminars, increasingly active international exchanges, the management of guidelines, and board certification/examination. As a result of this growth, the administrative office has experienced a rapid expansion in its role and an increase in its duties. We hope to deliver high-quality work efficiently by fundamentally reforming our workflow. This goal will involve reviewing tasks currently undertaken by the JSICM and the administrative office, and sorting out tasks to be handled in-house from tasks to be outsourced.
●Financial Management and Budget Optimization, and Involvement with Large-Scale Projects
Once we clarify the operational vision of the JSICM, large expenses will at times be required for projects that are deemed necessary. Besides managing our income and expenses, optimizing our budget through a systemic review of the Society is key. In addition to creating a new Committee for Financial Management, we will set up a system to involve the Board of Directors in budget optimization.
With the aforementioned theme and vision in mind, I will do my very best to unite the Board of Directors as ONE TEAM and to serve as its captain.
Your support is indispensable to our further development as a Society.
I hope to work well with you all.
March 12, 2020