Welcome to the 41st Annual meeting of Japanese Society of Intensive Care Medicine (JSICM), the 14th Joint Scientific Congress of JSICM and KSCCM, and the International Scientific Congress of Intensive Care and Critical Care Medicine in Kyoto 2014
Yoshihito Ujike
President of the Japanese Society of Intensive Care Medicine
Department of Emergency & Critical Care Medicine
Okayama University Graduate School of Medicine, Dentistry, and Pharmaceutical Sciences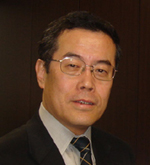 We are pleased to announce that the 41st Annual meeting of Japanese Society of Intensive Care Medicine (JSICM), the 14th Joint Scientific Congress of JSICM and KSCCM, and the International Scientific Congress of Intensive Care and Critical Care Medicine in Kyoto 2014 will be held at Kyoto International Conference Center and Grand Prince Hotel Kyoto on February 27th, 28th and March 1st in 2014.
It will be still early for plum blossoms, but you will be able to see the sign of spring. We plan to express "Japanese Spring" through the decoration of the meeting place. Also, Kyoto has a lot of old temples and shrines, and many of them are designated as World Heritage and national treasures. If you go to Gion, Shijo-Kawaramachi, and Nishiki Market, you will be able to find a various Kyoto cuisine such as Kaiseki, Kyoto vegetable, and Kyoto pickles. Those Japanese cultures will refresh you after the meeting. We are looking forward to have many attendees from abroad in our meeting.
Our main theme is "Intensive Care-with the heart, skill and intellects of multi -professional-". Intensive care has developed widely- it now includes emergency ICU, pediatric ICU, and medical ICU, post-surgucal ICU and CCU. Furthermore, for the achievement of true intensive care, not only doctors and nurses, but also other medical personnel such as clinical engineer, physical therapist, pharmacist, dentist, and nutritionist need to work hard with "heart, skill and intellects of multi-professional". In addition to individual expertise, cooperation among multi- professionals will be required to save lives of critically-ill patients.
In this meeting, we will cover various topics such as respiratory and circulatory management as basics of intensive care, sedation in intensive care, pain management, nutritional management, infection control, and clinical ethics.
We have invited specialists from all over the world- JSICM and KSCCM host the joint congress alternately, and this year we are pleased to have many Korean professionals in Kyoto. Experts from United States, Canada, Australia, Europe, Thailand, Taiwan, Indonesia, and Myanmar will be also joining us to discuss topics such as ECMO for ARDS, PAD and ABCDE bundle, problems in the system of board certification of each country, nutrition management, and assessment of ICU function.
We will also host the Japan resuscitation scientific symposium and seek the direction in revision of the Japan Resuscitation Council Guideline in 2015.
We believe this will be the great opportunity to discuss variety of topics in intensive care with specialists from all over the world. We hope to see you in Kyoto next year.
Sincerely,
Yoshihito Ujike